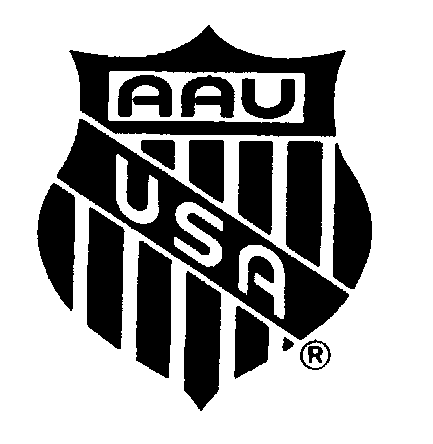 "Sports for All, Forever"
ALL Tai Chi Youth and Shaolin Chi Mantis students are required to be members of the AAU. Both Shaolin Chi Mantis and Tai Chi Youth are Sports Clubs of the AAU.
As members of AAU we have health insurance for all of our classes and events. This requires that ALL students and ALL competitors at a school event or tournament be current members of the AAU. Volunteers and coaches receive the same coverage and pay a smaller annual fee than AAU Athletes.
The AAU represents "amateur athletes." So Instructors and professional performers (the performers who are getting paid fees for performing), can not compete, but they can be coaches and referees.
To obtain more information about programs and tournaments in your area call 1-800-AAU-4USA.
The Amateur Athletic Union (AAU), based in Orlando, Florida, at the WALT DISNEY WORLD RESORT, is one of the largest, nonprofit, volunteer, sports organizations in the United States dedicated solely to the promotion and development of amateur sports and physical fitness programs. Established in 1888 by sport leaders who collectively became the first to create standards for amateur athletes in the country, the AAU has grown from its original 15 member clubs to 58 AAU Associations and approximately 10,000 clubs.
The AAU continues to operate on the basic principles upon which the organization was founded: to maintain and to protect the mutual interest of its members while advancing and improving amateur sports.
AAU members can participate in local, state/association, regional and national tournaments in divisions for youth, adult, senior, and masters levels. Sparring, Forms, and weapons competitions for beginner, novice, intermediate, and advanced levels are open to athletes ages 5 years and over.
The AAU JUNIOR OLYMPIC GAMES is the hallmark of the AAU. Chinese Martial Artists of The AAU CHINESE MARTIAL ARTS division who are between 5 and 18 years of age compete "Olympic Style."
The AAU administers the foremost national referee licensing program in the country. Rigorous certification standards set by the AAU ensure the high caliber of AAU CMA Tournaments recognized by athletes throughout the country.
The PRESIDENTIAL SPORTS AWARD program was developed by the President's Council on Physical Fitness & Sports in 1972 in conjunction with national sports organizations and associations. Its purpose is to motivate all Americans to become more physically active throughout life, and emphasizes regular exercise rather than outstanding performance. The program is administered by the Amateur Athletic Union (AAU).
Anyone age six (6) or older is eligible to participate in the Presidential Sports Award program. It is very important that all participants take necessary steps to make their activity enjoyable and safe. Awards can be earned in any one of 68 sports fitness activities, including CHINESE MARTIAL ARTS. For a personal fitness brochure and log, send a self-addressed, stamped envelope to:
Presidential Sports Award / AAU
c/o Walt Disney
World Resort
P.O.Box 10,000
Lake Buena Vista,
FL 32830-1000
Visit the AAU national website www.aausports.org or www.aauchinesearts.org.