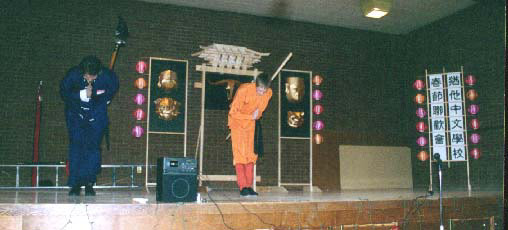 Classes
Schedule

Disciples must attend at least 3 classes per week: (120 minutes)

| Weekday | Times | Location |
| --- | --- | --- |
| Monday | N/A | North Hollywood Park |
| Tuesday | 11am or 7pm | North Hollywood Park |
| Wednesday | 11am or 7pm | North Hollywood Park |
| Thursday | 11am or 7pm | North Hollywood Park |
| Friday | N/A | North Hollywood Park |
| Saturday | 11am | North Hollywood Park |
| Sunday | 2pm | Regency Park: Victory & Laurel Cyn. |
All Shaolin Chi Mantis classes are taught in a traditional Chinese manner. Without any obligation of becoming a Buddhist, each student bows to the SCM Altar (3 flags carried by Buddha Zhen or in a school: would include framed pictures of the 'Past Masters' of SCM founder, Buddha Zhen, pronounced, "Jen.") These 'Past Masters' are now YOUR 'Past Masters' when you join Shaolin Chi Mantis.

Three 'Salutes' start and end each class.

1. Salute the Shifu
2. Salute the 'Past Masters'
3. Salute your school.

Students will be provided books with rules and required information.

There is NO SPARRING in any of classes and students are not allowed to spar outside of class with anyone. Choreographed routines, like fights in a movie, will be taught to enable the learning of self-defense techniques, Qin Na, Sticky Hands, Push Hands and an understanding of the movements learned.

1st 30-minutes:

Classes start with one of two SCM Yoga Routines
Punching and kicking drills
Water break

2nd 30-minutes:

Bookwork is read and studied in class
Each student reads allowed required lessons
Students discuss and understand the information and traditions of Shaolin
New lessons taught
Water break

3rd 30-minutes:

Qigong, applications, more new lessons
Students practice their lessons independently or as directed by Shifu
Water break

4th 30-minutes:

SCM Demo Team rehearsals, lessons, practice
Salute out
Tai Chi Youth
TAI CHI YOUTH was created for the 99-out-of-100 students who are not inclined or sufficiently motivated to become Disciples of Shaolin Chi Mantis.

This nonprofit education organization was incorporated March 3, 1996, in Salt Lake City, Utah.

Utilizing the BEGINNER PROGRAM of Shaolin Chi Mantis, stretched out from a 1-year program to a 3-year program, this curriculum has been taught in elementary schools, junior high schools, maximum security prisons, rehabilitation centers, various denominations of churches, and recreation centers.
Tai Chi Youth belt rank testing is included in the SCM Scholarship. As a Shaolin Chi Mantis disciple you will also be enrolled in the Tai Chi Youth nonprofit school. At the end of each semester you will belt test for both schools at no charge. As a nonprofit, Tai Chi Youth is supported by government grants, foundation, corporate donors, and hundreds of individuals.
The TCY Demo Team will offer additional performance opportunities to benefit community events and promote our Tai Chi Chuan. Tai Chi Youth will sponsor one or two Push Hand tournaments each year. During these tournaments Shaolin Chi Mantis students must compete in the division of their highest belt rank level from either school.
By promoting Tai Chi Youth we will be able to obtain more funding and possibly build our first school in North Hollywood during 2019.
SCM is especially valuable for actors. Founder Buddha Zhen was trained by Grandmaster Douglas Wong, who is famous for training hundreds of Hollywood actors and stars. Buddha Zhen was also trained by Dr. Kam Yuen, who was the stunt coordinator for many movies and television shows including the David Carradine 'Kung Fu' television series. During the 1970s Grandmaster Yuen also trained Michael Jackson.