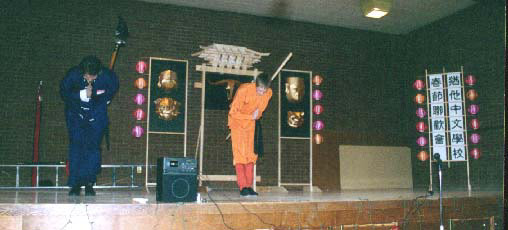 Requirements
1. Respond to advertisement or referral by phone: 818-723-2769 ("Buddha Zhen" phone)
(Disciple phone call #1)
a. Receive Buddha Zhen EMAIL ADDRESS if accepted at end of phone interview.
2. Understand this 'Scholarship Offer' at www.ShaolinChiMantis.com/18
a. Visit "6 Links" in UPPER LEFT MENU BAR of Test Area on SCM webpages.
3. Follow instructions and respond by email to Buddha Zhen: (Scholarship questions)
(Disciple email #1)
4. Buddha Zhen calls by phone.
(BZ phone #1)
a. athlete?
b. Buddhism interest?
c. able to schedule 3 classes per week?
d. dedication to SCM?
e. personal motivation to join SCM?
5. Study www.shaolinchimantis.com/18
(Disciple email #2)
a. send email with comments and questions about SCM, TCY, scholarships...
b. include attachment photo of NEW tennis shoes and receipt
6. Study www.shaolinzen.org
(Disciple email #3)
a. send email with comments and questions about Shaolin Zen
7. Buddha Zhen calls Disciple by phone.
(BZ Phone #3)
a. discuss comments and questions submitted by student about Shaolin Zen.
b. interview questions from Buddha Zhen
8. "SCM 18 Luohan Discipleship APPLICATION"
(Disciple email #4)
a. Printed and filled out by student (phone photo = email attachment)
9. Buddha Zhen calls to schedule personal interview.
(BZ phone #3)
10. In-Person Interview with Buddha Zhen. If student passes interview:
(Personal interview #1)
a. submit "SCM 18 Luohan Discipleship Program AGREEMENT "
b. pay $90 to SCM
c. bring new tennis shoes for final approval
must be: "Court Shoe" by Adidas, Nike, Reebok, or K-Swiss
d. pass the "Broad-jump Test"
11. Student receives book download PDFs and PRINTS BOOKs before first class.
(BZ email #1)
a. Shaolin Kung Fu Initiate by Buddha Zhen
b. Tai Chi Beginner by Buddha Zhen
12. 1st class. Disciple receives:
(Personal interview #2)
a. White Sash
b. SCM Notebook
c. Black Kung Fu uniform
d. One SCM black T-shirt
13. Attend 3-classes per week per prearranged schedule.
14. Practice 3-days per week and enjoy learning. Proper eating and sleeping is required. Three balanced meals plus up to three snacks each day. 8-hours sleep will be necessary. No other exercise routines can be practiced during program. No exercise machines can be used during program. No special diets or weight-loss programs can be used during program. We will make you the best athlete your body is capable of. Other exercise routines have been proven to hamper or injure you. This Shaolin Chi Mantis Beginner Program is equal to most Karate Black Belt programs. You will be the equivalent of most Black Belts at the end of this One-Year SCM Beginner Program.
15. Study all required bookwork and website pages.
16. Pass SCM Initiate Belt Test. (pass or fail)
Pass TCY White Sash + 1 Red Stripe belt test
17. Perform 'mock' Buddhist Initiation Ceremony of SCM for videotaping.
Tai Chi Youth graduation ceremony
18. Obtain all Belt Rank Approvals before end of each semester.
19. Pass Belt Tests for:
a. SCM White Sash + 1 Green Stripe
b. SCM White Sash + 2 Green Stripes
c. SCM White Sash + 3 Green Stripes
d. TCY White Sash + 1 Red Stripe
e. TCY White Sash + 2 Red Stripes
f. TCY Yellow Sash
20. Pay $90 before 1st class of 1st, 2nd and 3rd semesters for new uniforms.
21. Purchase pair of approved tennis shoes before 1st class of 2nd and 3rd semesters.
22. Establish reputation of Shaolin Chi Mantis as:
benevolent, friendly, helpful, and enthusiastic about life;
incredible highest level of Chinese Kung Fu compared to any style;
authentic representation of original Shaolin Temple Kung Fu;
a very organized and comprehensive curriculum beyond any prior or existing school;
a treasure of Chinese traditions organized by founder, Buddha Zhen Shen-Lang;
a martial arts system never to be improved--only mastered.
23. Establish Tai Chi Youth presence in North Hollywood.
By performing in tournaments and events for the nonprofit Tai Chi Youth, we will be able to fundraise and build a new Kung Fu and Tai Chi school in Los Angeles.