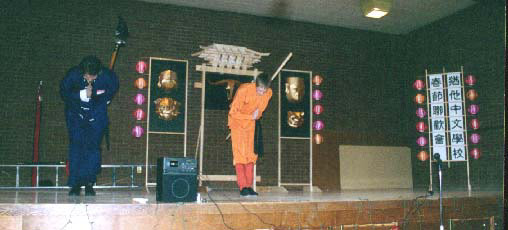 WEAPONS

SHAOLIN CHI MANTIS Traditional Buddhist Gongfu

Our student motto:
Truth, wisdom, and courage.™

Our school slogan:
The ultimate self-defense is self-awareness.™

Those who have successfully passed the Shaolin Chi Mantis INITIATE TEST and formally been Initiated during our SCM Annual Initiation Ceremony are Disciples of Shaolin Chi Mantis. This Initiation Ceremony includes Buddhist Head Shaving and Dharma Naming.

In the Buddhist tradition, a Novice will work his way up the spiritual ladder to the actual title of "Disciple" which is bestowed when the student receives their BROWN SASH.

Unlike any of the previous Belt Rank Levels, this DISCIPLE LEVEL has no stripes to earn.

The next advancement is the BLACK SASH.

Earning a Black Sash is much more difficult than earning a Black Belt in any Karate school. There are more handsets to learn, more weapons to learn, and a lot more spiritual work to complete than any Karate school we are aware of.

This Disciple Level includes an especially difficult weapon, the Chinese straight sword. Our traditional straight sword Form is the "Dragon Phoenix Straight Sword Form" of the Songshan Shaolin Temple.


TAI CHI YOUTH was created for the 99-out-of-100 students who are not inclined or sufficiently motivated to become Disciples of Shaolin Chi Mantis.

This nonprofit education organization was incorporated March 3, 1996, in Salt Lake City, Utah.

Utilizing the BEGINNER PROGRAM of Shaolin Chi Mantis, stretched out from a 1-year program to a 3-year program, this curriculum has been taught in elementary schools, junior high schools, maximum security prisons, rehabilitation centers, various denominations of churches, and recreation centers.

MEMBERSHIP in Tai Chi Youth is $10 per year. Tuition fees vary from $25 to $55 per month for students under 18.

Scholarships have also been provided based upon available funds from DONORS.


Instructors, ("Shifu" in Mandarin Chinese or "Sifu" in the Cantonese dialect), and Donors, may be provided a "Guest Password" allowing them more access and more perks than a Tourist.

At Tai Chi Youth Tournaments, our donors are our special guests and receive special privileges which may include a TCY Student Escort to attend to their needs for the entire tournament.

As our GUEST, we look forward to providing you with all you need.


Shaolin Chi Mantis welcomes visitors to our schools and our websites. Without paying an entry fee or membership fee, we will permit you to browse sections of our WEBSITE TEMPLE with limited access.

As a Tourist you can also keep abreast of our EVENTS, SEMINARS, and TOURNAMENTS by checking the www.shaolinCOM.com EVENTS PAGE.