OUR STUDENTS MAKE US LOOK GOOD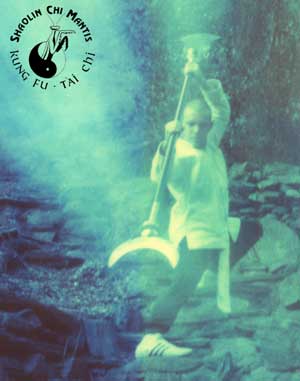 Being a Shifu (Instructor) is much like being a Father. There is joy in seeing students excel and do well. There is disappointment in seeing students not do well.
Fortunately, our school and class atmospheres have been conducive to student's learning how to learn better and take pride in their efforts.
Yes, I know, fail and quit and disappointment and even pride are not Buddhist concepts -- or are they?
Hopefully, even when students fail, we have taught them how to look for success, opportunity, or wisdom instead of just accepting failure.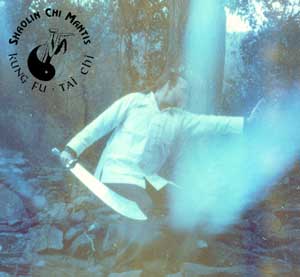 Hopefully, even when a student quits, it is because quitting was the correct thing to do...
Disappointment requires expectation, another Buddhist no-no word. However, at Shaolin Chi Mantis we teach our students to have high ideals and high expectations of themselves.
Shaolin Chi Mantis 1999 We also teach them to let go of the expectation as disappointment sets in.
The last of our Buddhist no-no words, pride, can of course lead to a lot of trouble--you've just got to balance it with humility.



Thank you to all students who have made Shaolin Chi Mantis and Tai Chi Youth LOOK GOOD.
Sincerely,


Zhen Shen-Lang
Patriarch of Shaolin Chi Mantis

AWARDS of Shaolin Chi MantisGongfu School & Students


Date
Description
Student
Event or Occasion

March 1,
1997

1st Place Trophy
Beginner Forms
"Lian Bu"
Zhen, Ming-Mou
age 6
Tournament: Rocky Mountain Karate Classic National Championships

March 1,
1997

1st Place Trophy
Intermediate Forms
"Luohan 1"
Disciple Bo
age 15
Tournament: Rocky Mountain Karate Classic National Championships

March 1,
1997

1st Place Trophy
Intermediate Weapons
"Jade Ring Dao"
Single Saber
Disciple Bo
age 15
Tournament: Rocky Mountain Karate Classic National Championships

1st Place Trophy
Beginner Forms
"Luohan 1"
Zhen, Ming-Mou
age 6
Tournament:

1st Place Trophy
Intermediate Forms
"Small Circular Fist"
Disciple Bo
age 15
Tournament:

1st Place Trophy
Intermediate Weapons
"Jade Ring Dao"
Single Saber
Disciple Bo
age 15
Tournament:

1st Place Trophy
Beginner Forms
"Lian Bu"
Zhen, Ming-Mou
age 6
Tournament:

1st Place Trophy
Intermediate Forms
"Luohan 1"
Disciple Bo
age 15
Tournament:

1st Place Trophy
Intermediate Weapons
"Rolling Dragons "
Double Sabers
Disciple Bo
age 15
Tournament:

1st Place Trophy
Beginner Forms
"Lian Bu"
Zhen, Ming-Mou
age 6
Tournament:

1st Place Trophy
Intermediate Forms
"Luohan 1"
Disciple Bo
age 15
Tournament:

1st Place Trophy
Intermediate Weapons
"Rolling Dragons "
Double Sabers
Disciple Bo
age 15
Tournament: