Shaolin Chi Mantis retails a variety of Chinese imported clothing for use by our students. Since launching our website, www.shaolinchiMANTIS.com, in December 1999, we have been anxious to sell our cotton, silk, and satin clothing to a larger online clientele. Some of our clothing is unique to our school and manufactured only by us, such as our school silkscreened t-shirts.
Most of our clothing is imported from China and some is even from the village at the base of the original Shaolin Temple on Mt. Songshan.
SInce 9/11, shipping prices have risen dramatically. So, Shaolin Chi Mantis primarily offers these uniforms online for the convenience of our current students. We don't stock as many of these uniforms as we used to so there may be a delay for us to obtain these uniforms from our distributor before we can ship them to you.
Shipping prices have changed dramatically and some of our online prices have not been updated. Purchasing an item with outdated shipping charges may require you to pay additional postage than the webpage may charge you.
Cafepress purchases are made directly with CafePress through our CafePress websites:
www.CafePress.com/buddhakungfu www.CafePress.com/shaolinrecords and others of ours.
KUNG FU CLOTHING

Kung Fu Uniform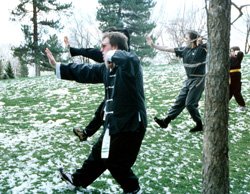 This includes pants and a long-sleeved frog-button Chinese shirt.

Sometimes the buttons are white, sometimes black. Other colors of uniforms are available.
The T-Shirt in the photo is our SCM409 Praying Mantis school shirt.
The sash in front, White+2 Green Stripes, represents the 3rd Level of the Beginner Level of Shaolin Chi Mantis.
The Yellow Sash represents the Intermediate Level of Tai Chi Youth, our nonprofit organization.